Sickle Cell Anemia Treatment
Sickle Cell Anemia Treatment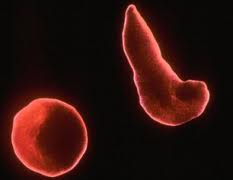 Suffering from sickle cell anemia would require you to provide yourself with the best sickle cell anemia treatment. This is not the most common type of anemia and would require careful medical attention.
According to the National Heart Lung and Blood Institute, sickle cell anemia is the most common form of sickle cell disease (SCD). SCD is a serious disorder in which the body makes sickle-shaped red blood cells. "Sickle-shaped" means that the red blood cells are shaped like a crescent.
Sickle cell anemia has no widely available cure. However, treatments can help relieve symptoms and treat complications. The goals of treating sickle cell anemia are to relieve pain; prevent infections, organ damage, and strokesexternal link icon; and control complications (if they occur).
Blood and marrow stem cell transplants may offer a cure for a small number of people who have sickle cell anemia. Researchers continue to look for new treatments for the disease.
Infants who have been diagnosed with sickle cell anemia through newborn screening are treated with antibiotics to prevent infections. Their parents are educated about the disease and how to manage it. These initial treatment steps have greatly improved the outcome for children who have sickle cell anemia.
People who have sickle cell anemia need regular medical care. Some doctors and clinics specialize in treating people who have the disease. Hematologists specialize in treating adults and children who have blood diseases or disorders.
Source: National Heart Lung and Blood Institute
Some of the treatments that you can use for sickle cell anemia are provided by NYTimes. It stated that the goal of treatment is to manage and control symptoms, and to limit the number of crises. Patients with sickle cell disease need ongoing treatment, even when they are not having a painful crisis.
Folic acid supplements should be taken. Folic acid is needed to make red blood cells.
Treatment for a sickle cell crisis includes:
Blood transfusions (may also be given regularly to prevent stroke)
Pain medicines
Plenty of fluids
Other treatments for sickle cell anemia may include:
Hydroxyurea (Hydrea), a medicine that may help reduce the number of pain episodes (including chest pain and difficulty breathing) in some people
Antibiotics to prevent bacterial infections, which are common in children with sickle cell disease
Treatments for complications of sickle cell anemia may include:
Kidney dialysis or kidney transplant for kidney disease
Drug rehabilitation and counseling for psychological complications
Gallbladder removal in those with gallstone disease
Hip replacement for avascular necrosis of the hip
Treatments, including surgery, for persistent, painful erections (priapism)
Surgery for eye problems
Wound care, zinc oxide, or surgery for leg ulcers
Bone marrow or stem cell transplants can cure sickle cell anemia. However, they are current not an option for most patients. Sickle cell anemia patients are often unable to find well-matched donors.
Source: NYTimes
While sickle cell anemia may not have a known cure, a good sickle cell anemia treatment will surely be able to alleviate the symptoms and minimize the risk of complications.