What is Mucopurulent Conjunctivitis
Mucopurulent Conjunctivitis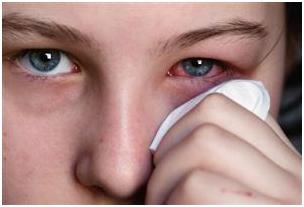 Mucopurulent conjunctivitis could happen to all ages. This kind of medical condition is also what you call "sore eyes" but the difference is that it has already been infected. Basically, having conjunctivitis irritates your eyes and makes it red but with mucopurulent conjunctivitis, from the word itself, pus is already coming out from the eyes. This pus is the eyes' defense from bad bacteria that's getting into the eyes.
According to Eyeworld: Disease Of The Eye And Treatment, acute mucopurulent conjunctivitis is the most common type of acute bacterial conjunctivitis. It is characterised by marked conjunctival hyperaemia and mucopurulent discharge from the eye. Common causative bacteria are: Staphylococcus aureus, Koch-Weeks bacillus, Pneumococcus and Streptococcus. Mucopurulent conjunctivitis generally accompanies exanthemata such as measles
and scarlet fever.
Source: Eyeworld: Disease Of The Eye And Treatment
There are various ways on how to determine if you already have mucopurulent conjuctivitis. You may notice that you have this kind of disease if you could feel that your eyes are already irritated and red. You can identify that it is mucopurulent conjunctivitis if you could see pus formation on your eyes. WebMD specified some of the symptoms of having a conjunctivitis which are:
Eye redness (hyperemia).
Swollen, red eyelids.
More tearing than usual.
Feeling as if something is in the eye (foreign-body sensation or keratoconjunctivitis).
An itching or burning feeling.
Mild sensitivity to light (photophobia).
Drainage from the eye.
Source: webMD
Having mucopurulent conjunctivitis could lead to several complications like blindness, which is why that people are wary with this kind of eye disease. But, one of the ways that you could protect yourself from it is to be aware of the symptoms of the condition so that you may be able to identify it at the earliest, hence, allowing you to find immediate treatment for it as well to prevent further complications.