Bronchitis
What is Bronchitis?
Bronchitis is mainly an inflammation of the airways or air passages in the lungs. This happens when there is an infection in either the windpipe, or trachea, and the bronchi get infected. This has been a common problem by individuals of varying ages. Men, women, young and old have been affected by this health problem.
What Causes Bronchitis?
Bronchitis usually occurs during cold season. Sometimes it is also referred to as the flu season. Some common causes are the following:
Virus. One of the major causes of bronchitis is viruses. Some of these are Influenza A and B. These are also called as "the flu".
Bacteria. Bacteria can also cause bronchitis. The Mycoplasma pneumoniae can cause bronchitis.
Inhaling irritants. Since the air that people breathe today is mostly polluted, it is very common for people to inhale irritants that can cause inflammation to the bronchial tubes. The most common irritants include fumes, dusts, smoke, and chemical solvents. There are also people who are sensitive to pollens and other toxins, which could all lead to bronchitis.
Weak immune system. When the immune system is weak, the bronchial tubes are more likely to get inflamed and infected. The elderly, smokers, and those who are constantly exposed to lung irritants are more prone to bronchitis. People who are often stressed out, experience fatigue, and other nutrient deficiencies easily contract bronchitis as well.
Diagnosis, Signs and Symptoms of Bronchitis
Cough. This is one very common symptom of bronchitis. The cough may be a bit dry and there is accompanied phlegm. When there is already a significant amount of phlegm, it often clearly suggests that the lung may be infected, and there may be a case of pneumonia. The cough itself could last for a long period, often more than two weeks. Continued coughing could make your chest sore.
Wheezing. This can occur when there is inflammation of the airways and could leave you having shortness of breath.
Remedies, Treatment and Cure for Bronchitis
Inhaling steam. This could help in opening up the lungs. Simply add pure eucalyptus oil into a bowl of boiling water. Then inhale the steam through your nose, all the while placing a towel over your head. You can do this 4 – 5 times daily to loosen the congestion in your chest.
If you have this tendency to suffer from bronchitis, you can take the 3-month programme especially during autumn to boost the strength of your lungs.
Echinacea. When taken regularly, echinacea could help prevent the occurrence of viral bronchitis.
Mullein, liquorice, wild cherry bark, and lomatium. These are expectorants and have anti-viral properties. They also have the property to loosen mucus.
Exercise lungs. Use your lungs. If you have noticed, professional singers rarely catch a cold. It is primarily because they use their lungs often.
Rest. If you are suffering from bronchitis, you need to rest in bed for at least 2 days for a faster recovery.
Diet for Bronchitis
Foods to Avoid
Sugar. Foods that contain sugar must be avoided. This would include concentrated fruit juices, and other sweets. Sugar reduces the body's immune system to fight off infections, hence, if you have plenty of sugar, you would be more susceptible to bronchitis, and if you already have one, it would just worsen.
Dairy products. You need to avoid chocolates and any other dairy products.
Refined carbohydrates. You also need to avoid cakes, biscuits, pastries and even soya products.
Hydrogenated or trans fats. Avoid foods and oils that contain these ingredients since they could trigger inflammation. These are also linked to asthma.
Friendly Foods
Fresh fruits and vegetables. These foods will always be at the top of the list if you have bronchitis. Whenever you are feeling weak, other parts of the body such as your digestive system is also weak. Eating fresh vegetable soup, which is easy to ingest foods that are rich in nutrients. You can thicken it with pumpkin, sweet potatoes, squash or carrots. These are rich in Vitamin A, which could really improve your immune system.
Papaya, apricots, and mangoes. These are great foods for the lungs too.
Apples. These are good for lung health but are often sprayed with various pesticides. So what you can do is to go organic, eat 2 apples daily during breakfast to give support to your lungs.
Garlic and onions. Natural antiseptics could help in cleansing the body.
Vine ripened tomatoes. These are rich in lycopene which are actually good for the lungs. Cooking in little amount of oil releases lycopene. Guavas and pink grapefruits are also good sources of lycopene.
Fish. You should eat fish regularly because it reduces the frequency of bronchial attacks. Fish oils could provide a strong anti-inflammatory effect.
Quercetin. This is a protective flavonoid that helps defend the body from the harmful effects of smoke and pollution. This is derived in pears, apples, grapes, cherries, onions, broccoli, garlic, red wine, and green tea.
Limonene. This is found in rind and edible citrus fruits such as lemons, oranges, limes, grapefruit, and tangerines. These fruits could help in protecting the lungs.
Magnesium-rich foods. This mineral is also helpful for the lungs. Some of these foods include brown rice, spinach, avocados, oatmeal, baked potatoes, haddock, lima and navy beans, yoghurt, broccoli, bananas, and unsalted nuts.
Zinc-rich foods. Zinc has anti-viral property and can help the body fight colds and flu. Some foods rich in zinc are oyster, fresh root ginger, and pumpkin seeds. Unrefined nuts are good sources of zinc as well.
6 glasses of water daily.
Teas with fresh lemon juice. When you make teas, add some lemon juice, a little honey, and a small piece of root ginger. Liquorice, elderberry, and fenugreek teas are wonderful.
Vitamins, Minerals and Herbs for Bronchitis
Include a hi-strength multi-vitamin in your daily regimen.
Multi-vitamins. This must have 400mg of magnesium. Studies have found that those who take Vitamin C and magnesium have healthier lungs than those who lack from it.
Bromelain (1,000-4,000mcu daily with meals while symptoms are acute). This is derived from pineapples and could greatly improve lung functions. It also helps to loosen mucus for easy breathing. An additional dose of 1-4g of Vitamin C in ascorbate form.
N-acetyl cysteine, or NAC (500mg twice a day). Research has shown that those who take NAC regularly are less likely to suffer from bronchitis.
Vitamin A (25,000iu for 7 days).
Echinacea, goldenseal and elderberry. These herbs boost immune function.
Liquorice. This is both anti-viral and anti-inflammatory.
Zinc gluconate lozenges. This could help in reducing sore throat and coughing.
Olive leaf extract (3 capsules daily). This has powerful anti-bacterial properties, and could help improve the immune system.
Expectorants. These could clear the lungs and could be taken in capsules.
Baby Bronchitis – How to Identify It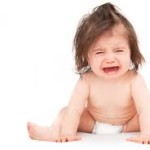 Baby Bronchitis – How to Identify It Baby bronchitis is among the ailments that you should watch out for. This condition is not to be taken lightly since it can lead to serious complications. There are actually symptoms that can help you figure out whether there is already a need for you to bring your baby to the doctor. Read more...
Treatment Of Bronchitis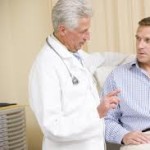 Treatment Of Bronchitis Treatment of bronchitis is important. Treatment is always best sought from a medical practitioner and should be made subsequent to a diagnosis. If you show symptoms such as coughing, wheezing, shortness of breath, along with chills, fever and malaise, better seek an appointment with your doctor right away and get diagnosed. Read more...
Bronchitis in Infants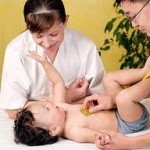 Bronchitis in Infants Due to the fragile nature of babies, the occurrence of bronchitis in infants is a huge concern for parents. However, there are ways and means to treat bronchitis.  Read more...