Some Facts About The Virulite Cold Sore Treatment Device
Virulite Cold Sore Treatment Device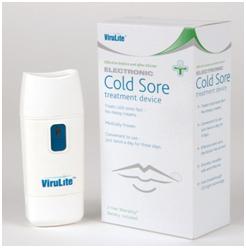 A Virulite cold sore treatment device could be of great help to you if you often suffer from cold sores. This treatment device is used to slow down the formation of cold sores.
According to Coldsores.com, virulite cold sore machine is a treatment for cold sores that uses patented light therapy that can decrease the amount of time it takes for your cold sore to heal. This technology was developed from many years of research in the causes, effects and treatment of cold sores. Treatment using this technology takes just minutes and you can carry the small device with you for discrete daily use. Virulite works by the application of invisible light directly to a cold sore. The light is emitted by covering the cold sore with the device, pressing a button and allowing the light to be absorbed over a period of three minutes.
The virulite light treatment device can be used in place of ointments or other medications used for cold sores. There are virtually no side effects to using this treatment and no level of toxicity from exposure to the light. An advantage to this treatment is that is can be used on active cold sores, unlike other medications and treatment that are often indicated for a specific stage.
Source: Coldsores.com
Although there are different kinds of treatment for cold sores, virulent cold sore treatment is really advisable for you since this is already medically proven. It has components that helps cure your cold sores immediately.
Virulite enumerated different facts about the Virulite cold sore treatment device. These facts include:
It is approved for NHS prescription
Electronic Cold Sore Treatment Device is an innovative concept, which utilizes breakthrough medical technology in the treatment of cold sores.
Medically proven.
If used in the tingling stage can even abort a cold sore eruption.
Effective even once the blisters have arrived.
Halves cold sore healing time once the blisters have arrived.
Enhances local immune response.
Ready to use with manufacturers guarantee.
Guarantee: The Cold Sore Machine will deliver unlimited treatment cycles, with a replaceable battery.
Source: Virulite
Originally designed to treat your cold sores quickly, the Virulent Cold Sore Treatment device also helps you prevent further complications of your cold sores. You should avail of this device if you want to stop cold sores at the outset.